US proposes extra tariffs on $50B in Chinese products to protest tech theft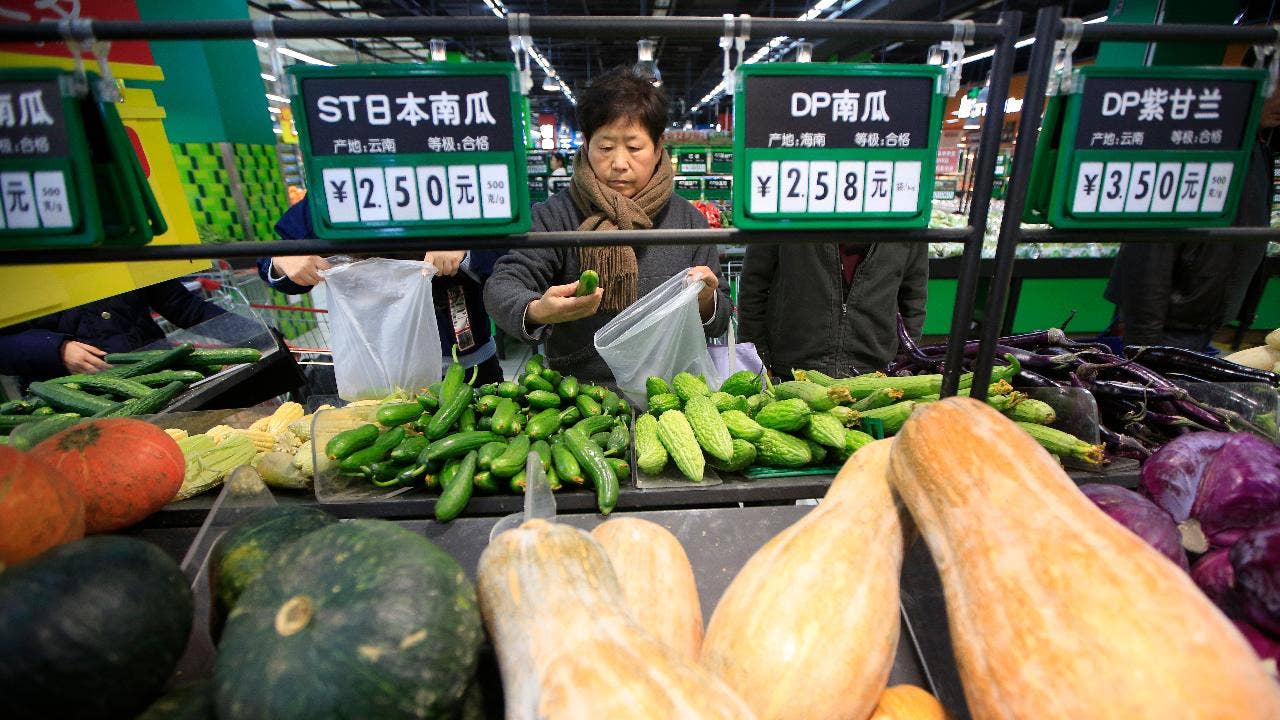 The Trump administration said Tuesday that it plans to slap 25-percent tariffs on approximately 1,300 products from China in response to Beijing's alleged theft of U.S. intellectual property.
According to the U.S. Trade Representative's office, the mainly non-consumer products account for approximately $50 billion in annual imports. The items include industrial chemicals, motorcycles and medical devices.
However, the proposed tariffs would not take effect before a public comment period ends May 11.
The announcement comes 11 days after Trump levied "protective" tariffs on Chinese steel and aluminum in response to what the administration has described as unfair trade practices.
In response, China raised import duties on American pork, fruit, aluminum and other products. China's government said earlier its imports of those goods last year totaled $3 billion.
The latest sanctions are designed to punish China for using strong-arm tactics in its drive to become a global technology power, including pressuring American companies to share technology in exchange for access to the Chinese market, forcing U.S. firms to license their technology in China on unfavorable terms and even hacking into U.S. companies' computers to steal trade secrets.
The administration sought to draw up the list in a way that limits the impact of the tariffs — a tax on imports — on American consumers while hitting Chinese imports that benefit from Beijing's sharp-elbowed tech policies.
As part of its complaint, the U.S. is bringing a WTO case against Chinese licensing policies that put U.S. companies at a disadvantage.
Sen. Lindsey Graham, R-S.C., praised the announcement in a statement, saying: "Nothing will ever change when it comes to China's business practices until somebody starts pushing back.
"It is not too much to ask for China to stop stealing intellectual property and open up their markets that are closed due to heavy-handed Chinese government barriers to foreign business enterprises," Graham said.
The Chinese embassy in Washington said it "strongly condemns" the planned tariffs, which it said "serves neither China's interest, not the U.S. interest, even less the interest of the global economy."
"As the Chinese saying goes, it is only polite to reciprocate," added the embassy, which said Beijing would seek relief from the World Trade Organization (WTO) and "take corresponding measures of equal scale and strength against U.S. products in accordance with Chinese law."
Even representatives of the tech industry, which has complained for years that China has pilfered U.S. technology and discriminated against U.S. companies, were critical of the administration's latest action.
"Unilateral tariffs may do more harm than good and do little to address the problems in China's (intellectual property) and tech transfer policies," said John Frisbie, president of the U.S.-China Business Council.
And the Internet Association, which represents such companies such as Google, Facebook and Amazon, expressed concerns, too.
"There's no doubt the U.S. government can and should address China's trade practices," Melika Carroll, the association's senior vice president of global government affairs. "But consumers and American job creators should not be caught in the crossfire. … These tariffs will leave our customers worse off, stifle growth and make it harder for the digital economy to succeed."
The National Association of Manufacturers (NAM), said that the tariffs "are likely to create new challenges in the form of significant added costs for manufacturers and American consumers [and] run the risk of provoking China to take further destructive actions against American manufacturing workers."
"If the imposition of tariffs is the first bid in negotiating a more level playing field," NAM President and CEO Jay Timmons said in a statement. "… the end product must be a new, strategic approach that includes negotiating a fair, binding and enforceable rules-based trade agreement with China that requires them to end their unfair trade practices once and for all."
In January, a federal court in Wisconsin convicted a Chinese manufacturer of wind turbines, Sinovel Wind Group, of stealing trade secrets from the American company AMSC and nearly putting it out of business. And in 2014, a Pennsylvania grand jury indicted five officers in the Chinese People's Liberation Army on charges of hacking into the computers of Westinghouse, US Steel and other major American companies to steal information that would benefit their Chinese competitors.
The Associated Press contributed to this report.
Burned and decapitated animal left on Homeland Security staffer's porch, report says
A burned animal carcass was reportedly left on the doorstep of a Department of Homeland Security staffer as tensions grow between the Trump administration and those who are protesting its "zero tolerance" immigration policy.
The acting deputy secretary of Homeland Security warned employees in a memo released Saturday that "there may be a heightened threat" against agency staffers, CBS News reported. The official said the alert came as "specific and credible threats have been levied against certain DHS employees."
The memo, which said "thousands of employees" have had their personal information released to the public online, reportedly detailed safety precautions staffers could take amid the ongoing backlash of the treatment of illegal immigrants and their families at the U.S.-Mexico border.
"Always keep doors and windows locked" and "be aware of unexpected changes in and around your home," were recommendations made to agency employees. They were also encouraged to call 911 or the Federal Protective Service if they're feeling threatened.
SARAH SANDERS DECRIES 'CALLS FOR HARASSMENT' CITING MAXINE WATERS, RESTAURANT EPISODE
DHS staffers — particularly Immigration and Customs Enforcement agents — in recent weeks have been the target of roughly two dozens threats, according to ABC News. The threats were reportedly sent online.
A senior DHS official, living in the Washington, D.C. area, was reportedly the target of a physical threat. The news outlet reported he found the carcass of a burned and decapitated animal on his front porch.
The increasing number of threats, not only to DHS employees, come as Rep. Maxine Waters, D-Calif., called on her supporters Saturday to "absolutely harass" White House officials in public in an effort to fight back against the Trump administration.
President Trump on Monday in response called Waters "an extraordinarily low IQ person," adding: "Be careful what you wish for Max!"
White House press secretary Sarah Sanders, who was asked to leave a Virginia restaurant over the weekend, said Monday that recent "calls for harassment and push[es] for any Trump supporter to avoid the public is unacceptable."
"We are allowed to disagree, but we should be able to do so freely and without fear of harm," Sanders said. "And this goes for all people, regardless of politics."
Governors pull National Guard troops from border to protest Trump's 'zero tolerance' immigration policy
A group of governors are banding together to protest President Trump's "zero tolerance" immigration policy as the uproar over the separation of migrant children from their parents at the border continues. Some are withdrawing National Guard troops from the south, while others are pledging to withhold resources.
In April, Trump requested National Guard troops — around 2,000 to 4,000 — be deployed to the southern border. His order invoked a federal law called Title 32, under which governors retain command and control of Guard members from their states.
Arizona, California, New Mexico, Texas and Missouri were among the first states to agree to the president's request. At the time, governors from those surrounding states praised Trump for his commitment toward protecting the border.
WHAT TRUMP'S 'ZERO-TOLERANCE' IMMIGRATION POLICY MEANS FOR CHILDREN SEPARATED FROM FAMILIES AT BORDER
"Missourians are grateful to the President for recognizing the need to secure our borders," former Gov. Eric Greitens, R-Mo., said at the time. "We are proud that Missouri troops will play a support role in guarding against terrorism, protecting Americans from cartel violence, and enforcing our immigration laws."
"Anything we can do to further bolster these efforts is good news for Arizona and for our national security," Gov. Doug Ducey, R-Ariz., agreed.
But some governors, both Republican and Democrat, have since changed their positions after Attorney General Jeff Sessions ordered a "zero-tolerance" policy in April, which has resulted in the separation of nearly 2,000 children from their families within a 6-week period.
TRUMP'S NATIONAL GUARD REQUEST FOR US-MEXICO BORDER DRAWS RESPONSE FROM SURROUNDING STATES
Here's a list of states that are refusing to send National Guard troops and other resources to the U.S.-Mexico border as of June 19.
Colorado
In a June 18 executive order, Gov. John Hickenlooper, D-Colo., forbid state agencies from providing any resources "for the purpose of separating children from their parents or legal guardians on the sole ground that their families are in violation of federal immigration laws."
Hickenlooper called the separation of children from their parents at the border "cruel" and "un-American," adding that it threatens kids' mental and physical health.
The order says state agencies must adhere to federal law, providing services to anyone who is legally entitled despite their immigration status.
"We urge the administration to stop this cruel practice. If the White House won't act, Congress should. No political end is worth destroying families and traumatizing children," Hickenlooper said, urging lawmakers to support the Keep Families Together Act.
Maryland
"Immigration enforcement efforts should focus on criminals, not separating innocent children from their families," Gov. Larry Hogan, R-Md., said in a June 18 tweet. The next day, Hogan ordered four crew members and a helicopter to return to its station in New Mexico.
Massachusetts
Gov. Charlie Baker, R-Mass., canceled plans to send a helicopter and military analysts to back up border patrol due to the "inhumane treatment of children," his spokeswoman told The Washington Post on June 19.
New York
Gov. Andrew Cuomo, D-N.Y., said Trump's immigration policies are resulting in "human tragedy" — and New York will have no part in it.
"In the face of the federal government's inhumane treatment of immigrant families, New York will not deploy National Guard to the border," Cuomo said in a June 18 statement.
The next day, Cuomo announced he was filing a multi-agency lawsuit against the Trump administration for "violating the Constitutional rights of immigrant children and their families" who have been detained and separated at the border. The governor said there are at least 70 children currently being held in federal facilities in his state alone.
Virginia
Gov. Ralph Northam, D-Va., ordered four National Guard soldiers and one helicopter to return from the southwest on June 19.
"Virginia benefits from the important work of securing our border and we have a responsibility to contribute to that mission. However, we also have a responsibility to stand up to policies or actions that run afoul of the values that define us as Americans," he said in an online statement.
Northam said the state would be willing to return resources to the border once the Trump administration puts an end to its current "inhumane" immigration policy.
Fox News' Kaitlyn Schallhorn and The Associated Press contributed to this report.
What was Dinesh D'Souza charged with? A look at the conservative filmmaker Trump plans to pardon
President Trump announced plans to give conservative filmmaker Dinesh D'Souza, who was convicted of making an illegal campaign contribution in 2014, a "full pardon" on Wednesday.
D'Souza, 57, pleaded guilty to campaign finance fraud after donating $20,000 to New York politician Wendy Long, a Republican, during her Senate race in 2012. He was indicted two years later, in January 2014, for using a "straw donor," a person who makes illegal contributions to a campaign in the names of others, to make the donation.
As a result, D'Souza was sentenced to five years probation, eight months in a "community confinement center," weekly counseling sessions and given a $30,000 fine.
TRUMP TO GIVE 'FULL PARDON' TO DINESH D'SOUZA
"He was treated very unfairly by our government!" Trump said in a tweet Wednesday, which was then retweeted by D'Souza.
At the time, D'Souza's attorney, Benjamin Brafman, told The Washington Post in a statement that D'Souza did not have any "criminal intent" — it was simply an "act of misguided friendship."
"He and the candidate have been friends since their college days," Brafman explained to the newspaper. "It is important to note that the indictment does not allege a corrupt relationship between Mr. D'Souza and the candidate."
HOW DO PRESIDENTIAL PARDONS WORK?
D'Souza will become the fifth person Trump has pardoned since taking office, following behind former Arizona Sheriff Joe Arpaio, former Navy sailor Kristian Saucier, former Vice President Dick Cheney's aide Scooter Libby and the late Jack Johnson, boxing's first black heavyweight champion.
Here's what you need to know about the charges D'Souza faced.
What was he charged with?
D'Souza was charged with one count of illegally donating to a Senate campaign and one count of causing false statements to be made to authorities in connection with the contributions.
"D'Souza attempted to illegally contribute over $10,000 to a Senate campaign, wilfully undermining the integrity of the campaign finance process. Like many others before him, of all political stripes, he has had to answer for this crime – here with a felony conviction," then-Manhattan U.S. Attorney Preet Bharara said in a statement in September 2014.
DINESH D'SOUZA GOT A FELONY CONVICTION FOR ILLEGAL CAMPAIGN DONATIONS; WILL ROSIE O'DONNELL GET THE SAME TREATMENT?
In 2012, the Federal Election Campaign Act limited campaign contributions to $5,000 from "any individual to any one candidate," the indictment stated.
D'Souza gave Long $5,000 from himself and another $5,000 from his wife in March 2012. Months later, he asked others — an assistant and romantic interest — to donate to Long's campaign on behalf of themselves and their spouses, promising to later reimburst them $20,000 in cash, the U.S. Attorney's Office said in a statement online.
"When confronted by Ms. Long, D'Souza initially misled the candidate before admitting what he had done," the statement adds.
D'Souza's actions caused the campaign committee to submit "materially false, fictitious, and fraudulent statements" to the Federal Election Commission regarding the sources of the campaign contributions.
In total, Long's campaign raised less than $1 million for her losing fight against now Sen. Kirsten Gillibrand, D-N.Y., The Washington Post reported.
Fox News' Brooke Singman and The Associated Press contributed to this report.