Trump say many lawyers – seeking 'fame & fortune' – want to work for him
President Trump boasted Sunday that many lawyers — with the prospect of "fame & fortune" — want to represent him in the Russia collusion investigation, amid news reports that Trump cannot hire top-rate lawyers for the job.
"Many lawyers and top law firms want to represent me in the Russia case…don't believe the Fake News narrative that it is hard to find a lawyer who wants to take this on," Trump said over two tweets.
"Fame & fortune will NEVER be turned down by a lawyer, though some are conflicted. "Problem is that a new lawyer or law firm will take months to get up to speed (if for no other reason than they can bill more), which is unfair to our great country – and I am very happy with my existing team. Besides, there was NO COLLUSION with Russia, except by Crooked Hillary and the Dems!"
TRUMP SHAKES UP LEGAL TEAM AHEAD OF POSSIBLE MUELLER INTERVIEW
Trump's lawyer John Dowd resigned Thursday from the legal team handling special counsel Robert Mueller's federal investigation into whether the 2016 Trump campaign colluded with Russia.
VICTORIA TOENSING JOINS HUSBAND JOSEPH DIGENOVA ON TRUMP'S LEGAL TEAM IN RUSSIA PROBE
Dowd purportedly resigned over Trump's recent public attacks on Mueller and the president's desire to be interviewed directly by Mueller.
Trump replaced Dowd with veteran Washington lawyer Joseph diGenova.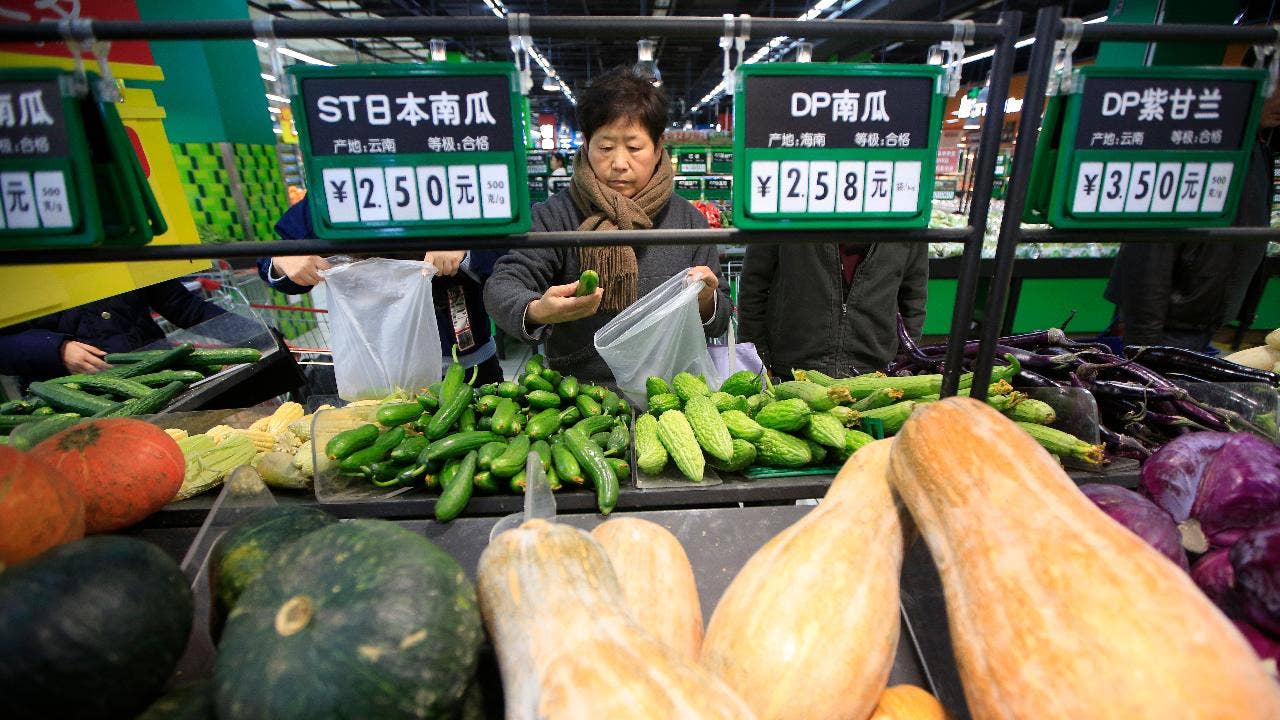 The Trump administration said Tuesday that it plans to slap 25-percent tariffs on approximately 1,300 products from China in response to Beijing's alleged theft of U.S. intellectual property.
According to the U.S. Trade Representative's office, the mainly non-consumer products account for approximately $50 billion in annual imports. The items include industrial chemicals, motorcycles and medical devices.
However, the proposed tariffs would not take effect before a public comment period ends May 11.
The announcement comes 11 days after Trump levied "protective" tariffs on Chinese steel and aluminum in response to what the administration has described as unfair trade practices.
In response, China raised import duties on American pork, fruit, aluminum and other products. China's government said earlier its imports of those goods last year totaled $3 billion.
The latest sanctions are designed to punish China for using strong-arm tactics in its drive to become a global technology power, including pressuring American companies to share technology in exchange for access to the Chinese market, forcing U.S. firms to license their technology in China on unfavorable terms and even hacking into U.S. companies' computers to steal trade secrets.
The administration sought to draw up the list in a way that limits the impact of the tariffs — a tax on imports — on American consumers while hitting Chinese imports that benefit from Beijing's sharp-elbowed tech policies.
As part of its complaint, the U.S. is bringing a WTO case against Chinese licensing policies that put U.S. companies at a disadvantage.
Sen. Lindsey Graham, R-S.C., praised the announcement in a statement, saying: "Nothing will ever change when it comes to China's business practices until somebody starts pushing back.
"It is not too much to ask for China to stop stealing intellectual property and open up their markets that are closed due to heavy-handed Chinese government barriers to foreign business enterprises," Graham said.
The Chinese embassy in Washington said it "strongly condemns" the planned tariffs, which it said "serves neither China's interest, not the U.S. interest, even less the interest of the global economy."
"As the Chinese saying goes, it is only polite to reciprocate," added the embassy, which said Beijing would seek relief from the World Trade Organization (WTO) and "take corresponding measures of equal scale and strength against U.S. products in accordance with Chinese law."
Even representatives of the tech industry, which has complained for years that China has pilfered U.S. technology and discriminated against U.S. companies, were critical of the administration's latest action.
"Unilateral tariffs may do more harm than good and do little to address the problems in China's (intellectual property) and tech transfer policies," said John Frisbie, president of the U.S.-China Business Council.
And the Internet Association, which represents such companies such as Google, Facebook and Amazon, expressed concerns, too.
"There's no doubt the U.S. government can and should address China's trade practices," Melika Carroll, the association's senior vice president of global government affairs. "But consumers and American job creators should not be caught in the crossfire. … These tariffs will leave our customers worse off, stifle growth and make it harder for the digital economy to succeed."
The National Association of Manufacturers (NAM), said that the tariffs "are likely to create new challenges in the form of significant added costs for manufacturers and American consumers [and] run the risk of provoking China to take further destructive actions against American manufacturing workers."
"If the imposition of tariffs is the first bid in negotiating a more level playing field," NAM President and CEO Jay Timmons said in a statement. "… the end product must be a new, strategic approach that includes negotiating a fair, binding and enforceable rules-based trade agreement with China that requires them to end their unfair trade practices once and for all."
In January, a federal court in Wisconsin convicted a Chinese manufacturer of wind turbines, Sinovel Wind Group, of stealing trade secrets from the American company AMSC and nearly putting it out of business. And in 2014, a Pennsylvania grand jury indicted five officers in the Chinese People's Liberation Army on charges of hacking into the computers of Westinghouse, US Steel and other major American companies to steal information that would benefit their Chinese competitors.
The Associated Press contributed to this report.
Democrat Doug Jones was certified Thursday by Alabama's Secretary of State as the winner of the state's Senate race, less than an hour after a judge rejected Republican nominee Roy Moore's last-ditch attempt to challenge the election.
Earlier Thursday, Moore's campaign alleged potential election fraud and asked a circuit judge for a restraining order to stop Alabama's canvassing board from certifying Jones' victory.
A judge then denied the request, leading Alabama Secretary of State John Merrill to certify Jones' victory.
Jones, who will be sworn in Jan. 3, celebrated the certification and vowed to be "an independent voice" for Alabama.
"I am looking forward to going to work for the people of Alabama in the new year," Jones said in a statement. "As I said on election night, our victory marks a new chapter for our state and the nation."
DOUG JONES WINS IN MAJOR UPSET, ROY MOORE WON'T YET CONCEDE
Jones won more than 20,000 votes than Moore in the Dec. 12 election, becoming the first Democrat to win election to the Senate from the deeply conservative state in 25 years.
A Democrat winning the special election for the seat to replace Attorney General Jeff Sessions was seen as just a remote possibility several months ago.
But Jones, a Birmingham attorney famous for prosecuting the KKK, caught a break after Moore was overwhelmed in recent weeks with multiple allegations of past sexual misconduct. Moore, the former chief justice of Alabama's Supreme Court, faced accusations he pursued romantic relationships with teenage girls while he was in his thirties.
He has denied the claims.
Since the election, Moore has refused to concede.
Moore's attorney wrote in the wide-ranging complaint that he believed there were irregularities during the election, including that voters may have been brought in from other states. He attached a statement from a poll worker that she had noticed licenses from Georgia and North Carolina as people signed in to vote.
The complaint also noted the higher-than-expected turnout in the race, particularly in Jefferson County, and said Moore's numbers were suspiciously lower than straight-ticket Republican voting in about 20 Jefferson County precincts. The complaint asked for a fraud investigation and eventually a new election.
Merrill said he has so far not found any evidence of voter fraud, but he has said that his office will investigate any complaint Moore submits.
Fox News' Griff Jenkins and The Associated Press contributed to this report.
A United passenger whose first-class seat on a recent flight from Houston to D.C. was given to Rep. Sheila Jackson Lee is firing back at the Democratic congresswoman's accusations of racism – while challenging the airline's account of the incident.
Jean-Marie Simon, an attorney and private school teacher, became the latest face of airline passenger woes when she detailed on Facebook and later to the news media how she lost her seat to the Texas lawmaker.
But despite a statement from United seeking to explain the switch-out, she's not giving up the fight. And the congresswoman's response – essentially claiming Simon made a scene because Jackson Lee, as an African-American woman, is an "easy target" – did not calm the waters.
Simon, in an interview with Fox News, rejected the racism allegation.
"That could have been Donald Duck in my seat," Simon, a Democrat, told Fox News on Thursday. "I could not see who had boarded the flight. I didn't even know who she was."
Simon originally accused United of bumping her from her first-class seat on a Dec. 18 flight in order to accommodate the Texas congresswoman.
At first, Simon didn't know who was in her seat as she argued at the gate. United eventually gave her a $500 voucher and reseated her in the economy plus section. In her original Facebook post, Simon said another Texas congressman then informed her a fellow member of the delegation was in her seat, and "regularly does this" to passengers.
'I could not see who had boarded the flight. I didn't even know who she was.'

– United passenger Jean-Marie Simon, responding to Rep. Jackson Lee's racism claim
Simon proceeded to take a photo of Jackson Lee, have a tense encounter with a flight attendant who allegedly threatened to remove her — and has been battling with the airline ever since she got home.
On one front, United claims Simon lost her seat because she canceled her flight via the app (which she denies). And on another, Jackson Lee piled on this week by reissuing her statement chalking up Simon's discontent to racial animus.
"Since this was not any fault of mine, the way the individual continued to act appeared to be, upon reflection, because I was an African American woman, seemingly an easy target with the African American flight attendant who was very, very nice," she wrote. "This saddens me, especially at this time of year given all of the things we have to work on to help people. But in the spirit of this season and out of the sincerity of my heart, if it is perceived that I had anything to do with this, I am kind enough to simply say sorry."
Simon is focusing her energy mostly on dealing with United, not Jackson Lee, but told Fox News, "The only way she is relevant is that she has a documented history of demanding first-class service."
Asked for comment, Jackson Lee spokesman Rucks Russell said in a statement: "The Congresswoman regrets any inconvenience that her travel may have caused to any passenger, however the issue in question involves the passenger and United Airlines."
WOMAN CLAIMS TEXAS REP TOOK HER AIRLINE SEAT
The 63-year-old passenger says her beef mostly is with United and how they treated her. She also suggested the airline is trying to age-shame her.
"I'm not some AARP grandmother who doesn't know how to use a phone," she said. "I know how to cancel a flight and I did not cancel this flight."
It's still not entirely clear what happened that day.
Simon used 140,000 frequent flyer miles on Dec. 3 to purchase her first-class ticket from Washington, D.C., to Guatemala and back. On her way home, she had a layover at George Bush Intercontinental Airport in Houston.
Simon said the attendant scanned her ticket but her reservation had been removed from the system. At that point, the member of Congress already was in first class, and Simon eventually got the economy plus seat.
United later attributed the incident to an app cancellation by Simon.
The official statement from the airline said they "thoroughly" examined their electronic records and "found that upon receiving a notification that Flight 788 was delayed due to weather, the customer canceled her flight from Houston to Washington, D.C. within the United mobile app."
The statement continued, "As part of the normal pre-boarding process, gate agents began clearing standby and upgrade customers, including the first customer on the waitlist for an upgrade. We were able to provide this customer a seat on the same flight in economy plus."
Simon rejects the explanation.
"Why would I ever cancel the second segment?" Simon said Thursday. "United furnished no proof that I canceled it. And why didn't I reserve another fight?"
Though United credited her 140,000 miles, what Simon really wants is an apology from the company's top brass.
She tweeted that a "low level employee at a call center" said sorry over the phone but that he hadn't even been briefed on the details of her complaint.
She also took to Facebook on Wednesday asking where's the proof she canceled her flight.
Asked Thursday about the discrepancies between United's and Simon's accounts, a United official told Fox News that their records clearly show the flight leg was canceled via the app – and not by a gate agent or other third party.
The official said their internal coding reflects the flight was canceled roughly a half-hour before the original take-off time, after it was clear the flight would be delayed over an hour. The congresswoman was then tapped for the seat because she was at the top of the upgrade list thanks to her global services status, the official said.
Though Simon adamantly denies she canceled her flight, the official said it's possible this could have been done accidentally.